Sussex Pines
A map to Sussex Pines is available by clicking here.
Here are some pictures of the Sussex Pines country club. Our wedding ceremony will be performed on the grounds of the country club, behind the 18th hole of the golf course (weather permitting, Lord willing!). The picture below shows the location of the ceremony (that is Jacob Wilhelm modeling for us :) The wedding reception will be in the section of the building shown in the left-hand part of the picture.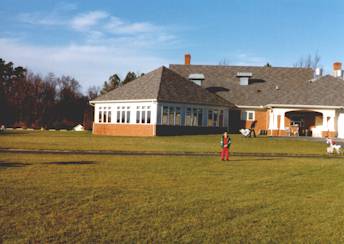 Here are some pictures of the front and parking lot area of Sussex Pines (Jacob, Andrew, and Peter are serving as our models :).