The Rehearsal
Sussex Pines Country Club
July 14, 2000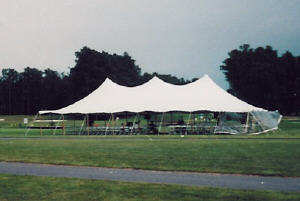 The picture above shows the original planned site for the wedding. A tent was rented to provide shade during the ceremony. This was placed on the grounds of the Sussex Pines country club near the 18th hole.
Unfortunately, a terrible storm swept through the night before the wedding and we were forced to move it to a backup location - a Methodist church in Bridgeville, Delaware.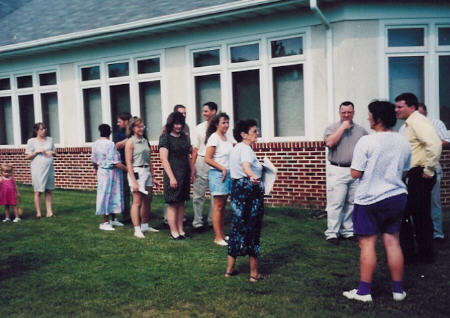 Here we were huddling up to get our instructions on what to do during our rehearsal of the wedding. Things actually turned out great considering that we practiced outside and had to move the wedding inside to a place most of us had never seen.
Lisa Wilhelm did the most excellent job at helping us to plan our wedding (Lisa is above on the far right). She had everything planned down to the minute and is the reason things seemed to go smooth. Marianna Baker helped coordinate and made sure that we were in our right places. Thanks Lisa and Marianna!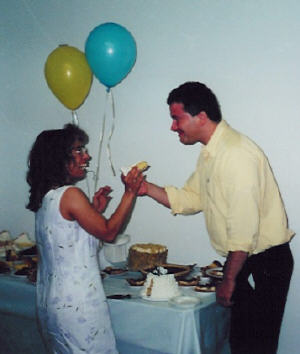 At the rehearsal, Jeff did not know what was meant by the term "Practice Cake." Jeff was nice to Marla, but about 5 seconds after this photo was taken, he had cake all over his face and hair. Jeff thought it meant to practice being nice to each other, but Marla had other plans...Jeff refuses to publish photos of the moment after the picture above was taken :) But see below for an equally embarassing situation...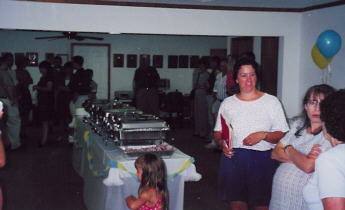 The rehearsal dinner was hosted at the home of Jeff and Pam Tull. They were great hosts and the above picture shows the food that was catered by Jimmy's. Boy, those were some awesome crab cakes! Ben Griffith was a pig and ate 5 of them.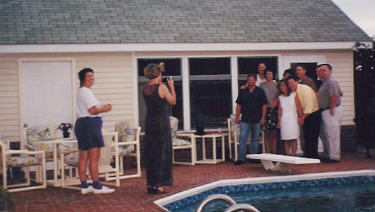 Here is a nice group picture beside the pool at the Tull's. Get a good look at Jeff's dry clothes because that is the last you will see them before...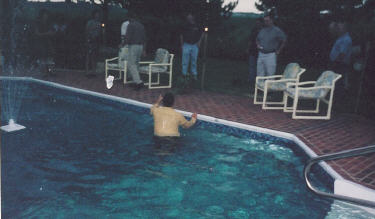 Well, Lisa Wilhelm called all of the grooms-men together under the guise of playing a game. After she told everyone to take off their shoes, Jeff said, "Wouldn't it be funny if....." At the same time he said that, he realized this game was just a ploy for him to get his shoes off so the others could hoist him in the pool.
The above shows Jeff voicing his vow for revenge!